Motorcycle Clubs: Page 4
History and facts about motorcycle clubs:
Abridged definition of "club" from the Merriam Webster dictionary: "a group of people who meet to participate in an activity"
Several years ago (2011) I studied around 90 motorcycle clubs. I did not study that large number of clubs in great detail but I was looking for the basic traits which comprise clubs in the US. There are around 3,000 clubs which currently exist in the US, however most are small, not listed on any register, and are closed groups. The number is always in flux and the exact number can only be estimated. Here are some interesting facts:
1. over 50% are closed groups (not anyone can join)
2. most last no more than 3 years, break up and new ones are started
3. there are three basic types of clubs: (the term club is used as an association of motorcyclists)
A. organized groups with bylaws, codes, objectives, and are recognized by other groups
B. associations which freely operate but have some form of structure
C. groups with specific objectives like touring, racing, or sponsoring shows or events
4. most clubs are small having memberships of six or under
5. the largest club is the AMA representing around 300,000 motorcyclists
6. the Hells Angels claim to have around 1,000 though figures historically vary
A brief historical outline:
1. from 1900 to around 1940: the early clubs
2. from post WWII to the 1970's: clear group identities form
3. from the 1970's to 2000: special interest groups form
4. since 2000: motorcycle club explosion
There is much overlapping and there are many variations with motorcycle clubs but this chart is correct in principle.
KCVJMC the Kansas City Chapter of VJMC (Vintage Japanese Motorcycle Club) started in 2011:
KCVJMC is one of the largest and most active VJMC clubs in the US. They have three shows per year, one swap meet, a Spring Rally, and a picnic toward the end the year.
Outlaw motorcycle clubs received much attention from the 1960's till the early 21st. century:
The "outlaw" club has a significant history in the US. A little about their history will be covered.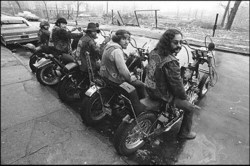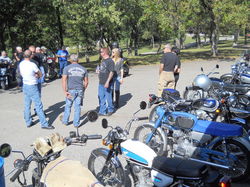 KCVJMC club picture above from 2015:
A list of early motorcycle clubs:
Yonkers Motorcycle Club (NY) 1903

San Francisco M/C club (Cal.) 1904

Huntington M/C Club(W.Virginia) 1910

Billings Montana Motorcycle Club 1924

AMA (national organization) 1924

McCooks M/C Club (Chigago) 1935

Boozfighters 1946

Market Street Commandos 1947

Hells Angels (from group above) 1953

Triumph Riders Club 1949

BMW M/C Club (world wide) 1951

Vintage Japanese Motorcycle Club 1977

Gold Wing Riders (USA) 1977

HOG (Harley Owners Group) 1983
THE HOLLISTER RIOT 1947:
This July 6, 1947 Hollister, California motorcycle event was the catalyst for an explosion of 1950's motorcycle clubs and activities. At the date listed above, Hollister was having a scheduled day of AMA sanctioned races. An estimated 4,000 riders ended up coming to the town for the festivities. With such a large crowd in a small town and the attendees being young and restless, it was no surprise that some trouble occured. As could be expected there was much drinking, racing, and rebelrousing! There were a few fights, street races, and many getting drunk. Because there were few police in a town that rarely suffered from this sort of activity, the authorities were overwhelmed. Backup was called and the event seemed as though the bikers had taken over the town. The news channels actually reported that "motorcycle gangs" had in fact taken over the town. Furthermore, a picture was staged of a man on his Harley appearing to be drunk with empty bottles of booze around the motorcycle. This picture in LIFE magazine along with embellished reoprts of the event fueled the fear of "rebel" motorcyclists. At that time motorcycles were few in numbers compared to cars. Furthermore, motorcyclists seemed to make up the rougher crowd and were seen the same as the early hot rodders. Some called them "greaseballs." This incident fueled people wanting to have the "tough guy" image to ride loud motorcycles and to act in an undiciplined manner, further giving the motorcyclist a poor image. The 1953 movie The Wild One used this event as it's subject. As the decade continued those wanting to be rebels gravitated toward the motorcycle. By the end of the 1950's the rebel motorcycle gang was a group to be feared. The AMA responded to the Hollister event by saying that only 1% of motorcyclists act this way! From that statement, many wanted to side with the 1% of "bad guys" which became to heart of the 1percenter gangs. This event and attitude did hurt the sport of motorcycling till the "You Meet The Nicest People On A Honda" campaigne in the early 1960's. It was the Japanese invasion of the 1960's that allowed motorcycling to become an accepted hobby. It's sad that there are still those who thrive on the old "rebel biker" image.
Since the 1980's there has been a renissance of motorcycle clubs start up:
After the 1970's and especially after 2000, many new motorcycle clubs began to emerge. Riding and touring clubs, clubs representing specific brands of motorcycles, sport bike clubs, and clubs representing circles of friends emerged.